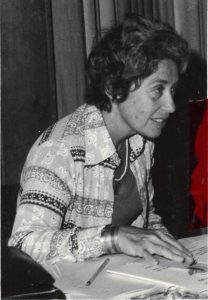 June A. Willenz received her Bachelor of Arts in Chemistry and her Master of Arts in Philosophy from the University of Michigan, Ann Arbor, MI.  She completed ABD in Philosophy at the Graduate Faculty, New School for Social Research, N.Y., N.Y. A copy of her C.V. in Adobe Reader format may be downloaded here.
Current Professional Activities:
Scholar in Residence, American University
Chairperson, Standing Committee on Women, World Veterans Federation (WVF)
Representative to the United Nations for WVF
Independent Consultant, Lecturer, and Writer
Executive Director, American Veterans Committee (AVC) (Emeritus)
Honors:
Listed in WHO'S WHO of AMERICAN WOMEN CONTEMPORARY WOMEN, WHO'S WHO IN THE WORLD, WHO'S WHO IN AMERICA
Awarded "La Medaille de la Ville de Paris" (Echelon Bronze) by The Mayor of Paris, Paris, 2000
Commendation by the U.S. Dept. of Labor for "outstanding leadership to improve employment opportunities for disabled veterans"., 2002
Awarded Medal for leadership in World Veterans Federation by 'The Federation of Women Veterans in Finland", August 2005
Honored by Congressional Black Caucus for "outstanding and invaluable service to community". 1997
Awarded Placque for " Outstanding Leadership" as Chairperson of Subcommittee on Disabled Veterans of the President"s Committee on Employment of People with Disabilities,1996
Mayor of New York City's Veterans Service Award . 1993
Achievement/Leadership Award – American Veterans Committee
Certificate of Appreciation for Dedicated World Leadership – Chicago Chapter, American Veterans Committee
Leadership Roles:
Member, First Advisory Committee on Women Veterans and Executive Committee, Veterans Administration1983-6
Chairperson, Task Force on Veterans and Armed Services Affairs, Leadership Conference on Civil Rights,1972-92
Director and Organizer , Legal Aid Program of American Veterans Committee (Veterans Benefits, Less-than Honorable and other Discharges) 1974-90))
Public Member, Foreign Service Selection Board, USIA
Fellow, Inter-University Seminar on Armed Forces & Society Consultant and Advisor to Congressional Committees, White House Commissions on Vietnam Veterans
Member, Planning Committee for Legislation Conferences of World Veterans Federation, 1988, 1994
Member, Advisory Committee on WVF Constitution, World Veterans Federation, 1997-2000
Professional History:
Executive Director, AMERICAN VETERANS COMMITTEE(1965-2003)
Columnist, STARS AND STRIPES NATIONAL TRIBUNE Newspaper
Recruitment Specialist: Leadership Development Associates. National Academy for Educational Development
Instructor- MONTGOMERY COLLEGE, Takoma Park, MD.
Program &Research Director, Dept. Labor, Special Project on Employment of Women Veterans
Free lance, speaking, writing, lecturing
Organizer and Director of Conferences:
"Rape in War" – Seminar, Istanbul, 1993
"Women in War" – Bellagio Conference Center (1986)
"Dialogue on National Service" (1989)
"Educational Problems of Vietnam Veterans(1972)
"Human Rights of Man In Uniform" (1970)
"Planning Conference, Human Rights of Man in Uniform" (1968) "
First National Conference on the Draft"(1966)
Consultant, Speaker, Seminar Leader, Chair ,Rapporteur, Resource Person – workshops, training sessions, conferences- for foundations, memorials, museums; educational, veterans , civil rights and other organizations, colleges and universities
Partial list: National League of Cities, National Urban League, NAACP, American Council on Education, Urban Coalition, Urban Coalition, Center for Policy Research, Twentieth Century Fund, Russell Sage Foundation, War Memorial Museum of Virginia, U. of Chicago Draft Conference, Amer. Assoc. Jr. Colleges, Aspen Veterans Conference, Project Open NGO Committee on the Status of Women, Intl. Working Group on Refugee Women,
Testimony to Congressional Committees, Congressional Research Service, Government agencies, State Legislatures
Partial list: Senate & House Veterans Affairs Committees, Senate Constitutional Rights Subcommittee, Veterans Administration, General Accounting Office, Depts of Justice, Labor, Health and Human Services, Dept. of Defense, OPM, HUD, Civil Service Commission, Dept. of Justice, Health and Human Sercies ; Departments of Veterans Affairs in New York, New Jersey, Connecticut, Massachusetts, Wisconsin, Maryland, Virginia
PUBLICATIONS
BOOKS
"Rape in War: Realities and Remedies", Chapter in CONTRIBUTIONS TO CONFLICT MANAGEMENT,PEACE, ECONOMICS AND DEVELOPMENT" , Edited byDr. G.Caforio & Dr. G.Kummel, 2005
WOMEN VETERANS: AMERICA'S FORGOTTEN HEROINES Crossroads/Continuum, N.Y. 1983 , Hard cover Paperback, iUniverse.com, 2001.
"Invisible Segment of a Veterans Population: Women Veterans, Past Ommissions & Current Corrections: – Chapter in GENDER DIFFERENCES, ed. M.L. Kendrigan, Greenwood, 1991
DIALOGUE ON THE DRAFT, Conference Report, (EDITOR) American Veterans Committee 1967
HUMAN RIGHTS OF MAN IN UNIFORM (unpubl.)conference report,1970
EDUCATIONAL ISSUES OF VIETNAM VETERANS (unpubl) conference report, 1972
OCCASIONAL PAPERS, STUDIES, ARTICLES, PAMPHLETS (partial list)
"Women in War: Social Consequences and Transformations" published as Etude, World Veterans Federation, 1998
" Social Consequences of War for Women" Lead chapter, Occasional paper, " Women,War and Memory" published by William Joiner Center, U. of Massachusetts/ Boston 1997
Paper: "Implications of Armed Conflicts on Women's Roles in Civil Society" Paper for 26th Interphil Conference, 1997, Strasbourg,France
"History of WVF Standing Committee on Women: A Case Study of Change in an International NGO Active in Peace Efforts and Support of Multilateral Strategies", Paper, Experts Meeting, UN Div. Advancement of Women", Santo Domingo 1996
"The Beijing Women's Conference Platform Breaks New Ground, Addresses Women Impacted by War", Article, WISMIC Newsletter, July 1996
"Invisible Veterans: Women Veterans Use of World War II GI Bill" American Council on Education Mag.Educational Record, Nov. 1994
"Refugee and Migrant Women" , WISMIC Newsletter, November 1994 "Factors Contributing to PTSD in Refugee Women and Children" WISMIC Newsletter, March 1994
"Rape of Women During Armed Conflict" Background paper for WVF Seminar, Istanbul, 1993
"Violence Against Women in Armed Conflict" – Paper for UN Experts Meeting, UN Div. Adv. Of Women, Rutgers University, 1993
"Problems of Women in Armed Conflicts", Proceedings of Symposium on War Veterans and International Humanitarian Law, International Committee of Red Cross, WVF, Oslo, 1986
"Women Veterans From the Vietnam War, Through the 80's" Valley Forge Historical Journal, Winter 1986 Originally given as a paper to the American Historical Assocation
"Role of Women in Warfare", Report of Special Session on Women, WVF, Nice, France, 1982
"A New Deal for Vietnam Veterans", Washington Post Outlook, 1977
"For a Continuing Dialogue on the Draft", Forensic Quarterly, 1968
"Returning Vietnam Veterans: Challenge to Nation's Conscience, Vital Issues, October 1972
Pamphlets on "Less Than Honorable Discharges" " Carter's Amnesty Program"
ACTIVITIES WITH UNITED NATIONS
Accredited NGO Representative to the United Nations For WVF. FIFCJ Statements to the UN ECOSOC, UNHCR, UN Div. for Advancement of Women 1984- 2005 (official UN documents) \ Statement to UN Human Rights Conference, 1993
Member NGO Committee on Women
Convener, Working Group on Women in Armed Conflict, (1993-98)
Convener of Workshops on Refugee and Displaced Women , NGO rep to UNHCR PrepComs, 1986-90)
Co-convener of Intl. Working Group on Refugee Women, Geneva, (1995- 2001) Organized and moderated UN NGO Workshops &Forums on "Women in Armed Conflict"; International Perspectives: Violence, Protection, Justice, 1998 , 1999,2000,2001 at United Nations, NY.
Presentations to UN Experts Committees, Istanbul, 1993, Rutgers U. 1996
Speech to NGO Committee on Mental Health " Psychosocial Consequences Of War on Women" The Comfort Women of World War II and , Others", United Nations, March 12, 1998
Speech to NGO Committee on Aging: "Human Rights and Older persons: The Comfort Women of World War II", UN, April 2, 1998
OTHER WRITINGS, EDITING
Editor and Writer, AVC BULLETIN, (periodic newsletter)1964-2000 " " " 50th Anniversary Journal, AVC, May 1994
Columnist, Contributor: STARS & STRIPES NATIONAL TRIBUNE (regular columnist) MINERVA Magazine, CRISIS Magazine, REVEILLE Magazine WASHINGTON POST Outlook Section EDUCATIONAL RECORD
Articles on Less-Than-Honorable Discharges, Veterans and Military Issues, Women, International Affaors \
National Study and Report for U.S. Department of Labor : "Employment Experiences of Women Veterans", 1985
MEDIA Activities
Advisor to Producer and Commentator for Documentary Film "THE WORLD WAR II GI BILL: The Law That Changed America" Odessey Films, , PBS, October 1997
TV, RADIO interviewee, participant (partial list)
…SALLY JESSY RAPHAEL …PANORAMA …STRAIGHT TALK ….Radio news broadcasts, panel discussions – N.Y., N.J., Boston, Philadelphia, Madison, Milwaukee, New Haven, St. Louis, Chicago, Baltimore, Washington,D.C.